&id
Mountaineering in East Africa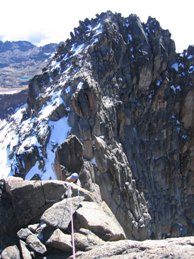 This was my first time on the African Continent, from 12/21/2005 to 1/15/2006. My climbing buddy Dirk Summers and I decided to travel to East Africa to climb Mount Kilimanjaro and Mount Kenya, Africa's two highest peaks. This was a very ambitious undertaking, for which we explicitly trained for (check out the Royal Arches climbing trip, which became a mini-epic). Although I have traveled to quite a few exotic places in Asia, Europe, and South America before, the wild and beautiful nature of Africa and her diverse, hard-working, friendly people left a deep impression on me. In some ways Africa is quite a lot behind other parts of the world, but her unique strengths and challenges are singularly powerful and beyond comparison. To me this trip to the east African countries of Tanzania and Kenya was one of the most unique experience of my life.
Our detailed plan was to first climb Kilimanjaro (in Tanzania), the highest mountain in Africa at 19340 feet/5895 meters elevation. Because this is a non-technical climb, we hoped to do this climb first to acclimatize to high altitude. After this, we will spend a few days on safari trips to recuperate before climbing Mount Kenya (in Kenya), the second highest mountain in Africa at 17058 feet/5199 meters. Mount Kenya does not have a walk-up route, most trekkers climb the subpeak Point Lenana, about 700 feet/210 meters lower. The easiest route to the highest summit of Mount Kenya requires technical roped climbing (class 5.7, grade IV) for nearly 20 pitches, which we probably would not be able to complete in one day. Fortunately there is a nice sturdy hut on top of the second highest summit of Mount Kenya (Point Nelion), where we can stay overnight before attacking the highest summit (Point Batian). Mount Kenya is the most challenging and committing climb on this trip, we planned to be well-acclimatized before doing it. After Mount Kenya, we would have time to rest and relax on the fabled tropical island Zanzibar (part of Tanzania), in the Indian Ocean. This trip plan worked out despite many obstacles. After I concluded my trip, Dirk spent another week exploring Uganda, a neighboring East African country. He visited mountain gorillas in the lush tropical jungles, and rafted on the upper Nile River.
Arriving in Kenya via Amsterdam
Enroute to east Africa Dirk and I stopped over for a few hours in Amsterdam, Netherlands in western Europe. It was deep winter in Amsterdam, daylight seemed non-existent while we explored the medieval architecture of the old city, the famous coffee houses, and Christmas festivities in the dusky, dreamy light. This is the ultimate hippie city, long cosmopolitan and filled with eclectic energies. Curiously, the coat of arms of the city since medieval times is "XXX": three St. Andrew's crosses.
On the morning of December 21, 2005, we arrived in Nairobi, the capital of Kenya. A few days before I contacted a hotel in Nairobi by email and they promised to send someone to pick us up for a good price. After spending 40 minutes looking for our ride who didn't show up, we ended up with a taxi driver who seemed knowledgeable and would take us to the city for a lower fee. His name is Dennis, a tall, easy-going man from the Kamba tribe. We went with Dennis and he hooked us up with a travel agent in the city that would arrange for our excursion trips to Mount Kilimanjaro and the big game parks in Tanzania. Our tour operator in Tanzania would be Zara International, a company with a good reputation according to our research. For lack of cash (Dirk had problems withdrawing cash from the local Barclay bank ATMs) we didn't book our Mount Kenya trip which was to happen later. Nairobi was hot, the two of us stuck out like a sore thumb, but we weren't hassled as much as I would have expected even when we were unaccompanied by locals. Dirk decided to cut off his long blond hair, so Dennis took us to a hair salon. The cost was a bit high but according to Dirk the head massage was really good.
Climbing Mount Kilimanjaro
My first impression of African landscape was the dusty, semi-arid plains surrounding Nairobi. Despite it being dry season, it looked rather improbable that this dry land supports such a large population. Later on we learned that Kenya was experiencing a serious drought which was killing people (notably the Massai) and their livestock. As we rode the bus south across the border to Tanzania, the scenery was that of long stretches of semi-arid scrubland with islands of lushness, notably near Arusha, where 4566-meter-high Mount Meru is located. When we got close to the little town of Moshi at the base of Mount Kilimanjaro, this huge volcano's majestic shape enveloped the horizon as if hugging the earth from above, its body looked incredibly broad once we discern its faint outline in the hazy warm air. We settled into the beautiful Springland Hotel operated by our tour company. It's very comfortably furnished and run like a tropical resort. Outside the gates of the plush hotel however, is a slice of normal rural Africa with trash heaps, (free-range) chicken running around, and vultures hovering. Every morning the prayer calls of the mosque in town woke us up, something we hadn't experienced before. Dirk found it rather uncouth that German tourists in the hotel walked around in their briefs in public. This was amusing to me since Dirk has German ancestry and speaks fluent German.
I didn't respond well to the hot sweaty bus ride from Nairobi to Moshi; I came down with a cold soon after arriving. It immediately cast doubt on our Kilimanjaro climbing plans, original scheduled for 6 days starting on December 23rd. I had heard about the dangers of often fatal pulmonary or cerebral edema when people go to high altitudes with a cold. We decided to ask for a delay from our hiking guide, Joel. Joel is a handsome young man from the Arusha tribe, around 29 years old, bald headed like most guys over here. His English is so-so, and he is a man of few words, but he exudes an air of calm control. He said fine, we can do it in 5 days via the Umbwe route. This meant no change in the end date of our climb, so we wouldn't have to pay extra for this change. Although originally Dirk had ambitions to climb one of Kilimanjaro's glaciers, it would have been logistically very difficult and I didn't feel I had the skills to do it safely. We ended up choosing the Umbwe route, it is the shortest and most direct route to the summit, and also the steepest, so it sees fewer climbers than other routes. From the Umbwe route we would be attacking the summit via the Western Breach, a class 3 path. The Western Breach is more difficult than other routes to the summit, but we felt we're in better shape than most tourists. By taking this approach we would save 2-3 days from the regular tourist itinerary. A week after our successful climb we heard on the news that 3 American climbers were killed by falling rocks on the Western Breach. We count ourselves very lucky that we got through here safely.
Exploring souvenir shops, restaurants, dance clubs and buying some medicine took most of our free day in Moshi, a fun and relaxing experience. We met many fellow tourists from different countries. By December 24th, we had to start the trip even though I didn't feel 100 percent. Joel brought in his assistant guide John, a cook, and 5 porters, so a total of 8 people would help the two of us make it to the summit. Most of the porters are from the Chagga tribe native to the Kilimanjaro region. I rented hiking poles before taking off in the jeep heading for the Umbwe trailhead. The jeep navigated muddy dirt roads up into the increasingly lush foothills of Mount Kilimanjaro with many banana fields. After an hour we arrived at the park gate, completed paperwork while our porters quickly sorted the provisions. To our surprise they didn't have the type of lightweight camp stoves we use for backpacking in the West, they would be carrying a heavy household gas stove up the mountain with us. At the park entrance there were a number of climbing parties each with numerous porters, and much gear were strewn about.
The first day we were going to gain about 1000 meters elevation, from about 1800 to 2800 meters (5900-9200 feet). We started out on a wide dirt road in the tropical forest surrounded by tall tree ferns, and the weather was quite warm. Our guides Joel and John walked with Dirk and myself while the porters soon barrelled ahead to make camp. After the initial flat stretch I started to fall behind, and John stayed behind with me. In the late afternoon it rained for about 2 hours, so I put on my rain-proof parka. The weather wasn't cold, the ground was very muddy and steep, and our pace was fast. Around 6 PM we reached the Umbwe Caves camp site, sheltered by huge boulders. There were about 3 other parties already there, and Dirk was relaxing with our porters. Most of the porters are physically small but they are very fit. We saw porters from other parties practically running up and down the trails bare-foot while carrying huge bags on their heads. Once at camp they started a festive party, there was non-stop conversation and portable radios playing music and news, all in Swahili, the lingua franca of east Africa. We were served meat stew and potatoes with vegetables, then we enjoyed hot tea. The porters slept in large communal tents while the two of us slept in Dirk's backpacking tent. The first night was quite comfortable. There was an enclosed squat bathroom behind the camp site, its floor was leaning quite a bit so it was rather uncomfortable to use it. We were advised about the presence of leopards at this elevation, but with this many people at the camp site the risk of attack was almost nil.
The second day we climbed out of the forest and into moorlands covered by shrubby heath about a man's height. The signature giant groundsels (a giant herbacious plant only found on high African mountains) with their huge rosette formations started to appear. As we climbed up a steep ridge we were greeted with our first sight of Kibo, the main volcanic cone and the highest summit of Mount Kilimanjaro. The world's largest single mountain mass lives up to its reputation, showing its long smoothly ascending ridges reaching over a great distance to the ice-laced summit. Jagged Mawenzi, the second highest volcanic cone was also visible behind the long ridge on the horizon. The ridge we're following upward was the Umbwe ridge, sometimes it narrows to only a few feet wide, dropping off hundreds of feet on each side, although it wasn't that scary due to the dense shrub cover. As the afternoon progressed the cloud cover started to envelope the entire mountain, and it rained again, this time much colder in an alpine tundra setting. I wanted to keep up with the others but fell behind again, while John followed me, offering to carry my day pack. I let him, and finally made it to the Barranco camp, elevation 3900 meters/12,800 feet.
The barranco camp had lots of climbing parties staying because it's on the southern summit circuit path. It's located beside a huge gash in Kilimanjaro's southwest face, where an ancient landslide created the deep Barranco Valley. From here we looked up directly to Kibo's southwestern face, called the Breach Wall. This is the most vertical face of Kibo, where a number of glaciers hang on the cliff face and the recesses. To the west of the Breach Wall is the gap in the crater rim called the Western Breach, from where we would ascend to the crater and then to the summit. The shifting clouds wafted in and out of the space between us and Kibo, making the icy cliffs of the Breach Wall seem closer and more imposing. The astounding scale of this huge mountain was overpowering and the icy air menacing.
The Barranco camp has a small round hut with a radio antenna, very useful during rescue operations by the Kilimanjaro National Park. The porters mostly huddled inside the hut because of the cold, and we snuck into our sleeping bags long before dinner was served. I was coughing a lot and losing apetite, Dirk seemed to have caught the cold from me as well. I woke up in the middle of the night with a pounding headache, and when I got up to relieve myself I was stumbling. My distance vision seemed affected when I looked at the frost-covered tundra under the light of my headlamp in order to take each step. I felt like I was on the moon, and I had never felt a headache like this. In my mind I was in an alien, inhospitable place, and I shouldn't be here. I decided to take my diamox pills, the medicine I prepared for altitude sickness. In an hour or so I started to feel better, while Dirk woke up with severe coughing. Later on he decided to take the medicine also, and we finally were able to sleep some.
In the morning after having hot tea and breakfast with eggs and muffins, we started going higher up toward the Arrow Glacier camp, elevation 4868 meters/15,970 feet. Because we're doing the climb in 5 days instead of 6, we would skip the Lava Tower camp, normally used to improve acclimatization. This meant another day of nearly 1000 meters ascent. It was another difficult day, I was trudging up slowly in the thin air, while Dirk fell behind for the first time. Apparently I was on the recovery of my cold while he was getting sicker. Joel accompanied me this time, and carried my day pack later in the day. We were enveloped in the mist most of day and made it to the frigid camp site still with much day light. I think I hike better when not sweating, and this coldness helped. After arriving at camp in good time Dirk decided to explore the lava towers around the campsite, and the remnants of the fast-disappearing Arrow Glacier. He's excited that tomorrow would be summit day as we discussed climbing plans with Joel. The porters would not climb to the summit with us, they would pack our provisions to the next camp site on our descent route via the south summit circuit path. Only our guides Joel and John would make sure we make it to the summit. As evening approached snow began to fall, and it fell continuously into the night. Originally Joel's plan was to start hiking toward the summit around midnight or so, which is the usual schedule for most climbing parties. This is because the summit day has the largest elevation gain and would be the most challenging day due to the highest altitude, so most parties leave extra time just in case. We would be climbing from 4868 meters to 5895 meters, a total of 1027 meters (3370 feet). Because of the snow fall however, Joel was concerned that the route would be unsafe to climb at night, so he decided a later start. We planned to get up at 4 AM and start hiking at 5 AM. Luckily for us the snow fall stopped a little after midnight.
Sleep was short and I got up in good spirits for the long hike ahead. Joel knew that I hike slower so he told me to start earlier. Before Dirk was ready, Joel and I started to hike up the Western Breach in the darkness, walking on a thin layer of powdery snow. As the day broke the climb got steeper and steeper, becoming class 3 in places. The loose piles of huge blocks surrounding us were ominus since they could roll down at us any minute. Extremely exhausted and lacking oxygen, I frequently rested, but Joel kept hollering at me to keep going. A bit later he started to carry my day pack and I felt a little more energy on the climb. I was able to barely keep up with Joel, while John was leading Dirk far below us. Dirk insisted on carrying his full gear with an ice axe, and had serious trouble keeping up because of his cold. When Joel and I reached the crater rim at 18000 feet, we waited for the other two as the next stretch was the final hill to the summit. A lot of groups camp on the crater rim to break up the long ascent as well as to see the sun rise over Africa's highest volcano. Not having time for that, we regrouped for a short while at the rim, then pressed on at the urging of Joel who was afraid of more snowfall later in the day. There was a short flat stretch where we took photos of the Furtwangler Glacier, a spectacular sheet of ice a hundred feet thick lying lat on the crater rim. Just as we worked our way above the crater rim up the final hill, we were enveloped by wind and hail. Visibility was getting poorer. I was at the end of my strength, hoping we didn't need to be rescued as the next camp would be a long way away. I could only keep going at the prodding of Joel, who was always confident we could make it. Once we reached the ridge top in the windy and misty weather, I followed Joel through the final flats to Uhuru peak, the top of Africa, the summit of Kibo, the highest point of Mount Kilimanjaro. Joel and I took pictures as we waited for the other two, who arrived about 20 minutes later. Dirk was emotionally stressed; his sickness made the summit day even more challenging. After a few hero shots with the wooden posts and plaques marking the summit, we were led by Joel to come down another route, the Mweka. This is a usual descent route because it's fast and direct.
We quickly lost much elevation as we trudged down steep steps in the volcanic sand, similar to a long scree slog which we're very used to in California's mountains. Joel wanted to make it to Mweka Camp (3100 meters/10200 feet) that day, that would mean descending 9140 feet in one day. And that's after doing the most challenging ascent earlier in the same day! We protested and finally agreed on setting our goal at the Millenium camp, elevation 3837 meters/12590 feet. The hail turned to rain as we slogged past Barafu hut, situated beside large rocky slabs. After more fast slogging we arrived at Millenium camp, when the sun hadn't set yet. It was a great relief to be back in a fairly warm, vegetated place with people, and our porters were happy that the trip would be over in just another day, when they could go home. The atmosphere was festive for the porters, but all I could think of was to slow down and rest. This camp was even equipped with a decent toilet. Through the heath bushes we had glimpses of the perfect conical-shaped Mount Meru in the distance. Looming above was the icy Kibo, now so beautiful although harsh and unforgiving just hours ago. We took a shot with all the porters (except the one that served us dinner every day, didn't know where he was) and Kibo in the background. What an unforgettable experience!
The last day was downhill all the way in warm sunshine, we noticed the flowering trees and numerous wild flowers, such as the Kilimanjaro impatiens and the gladiolus. We made the whole descent to Mweka park gate (1676 meter/5500 feet elevation) in a little over 2 hours, dropping nearly 2200 meters! The increased level of oxygen in the air was very appreciated. At the park gate we completed the paperwork to certify that we had climbed Africa's highest mountain. At the village down from the park we took a break from the jeep ride, tasted banana beer and looked over some handicrafts. A little later we were back in Moshi in the plush Springland Hotel for more relaxation. The next day Joel came by to receive tips for his porters and delivered our official certificates from the Kilimanjaro National Park of Tanzania. It was great to see him again and Dirk wanted to tell him about mountaineering in the States. They promised to keep in touch. I felt extremely thankful for Joel, John, and our porters for helping us so much during the climb. There was no way that I could have made it on my own, and physically this was the most challenging climb I had ever accomplished.
Safari trip to the famous Serengeti
During our rest day in Moshi we moved to the Buffalo Hotel and hung out with a trio of young Americans (2 girls and a guy in their mid-20's) from the East Coast. One of the girls was going to do a medical internship for 3 months in a little town a few hours south of Moshi. In addition to souvenir shopping we even went to a dance club. The next morning when the promised ride to our safari trip didn't show up, we found out our tour operator had forgotten about us. So they set up a trip just for us, and we were able to leave early in the afternoon. This turned out quite nice for us: with a minibus, a driver, and a cook, just for the two of us for 4 days, no sharing with other tourists. Our driver was Al-Bakari, a shrewd guy who knew everything. His dry sense of humor was quite entertaining during the long drives.
We camped at Mto Wa Mbu ("Mosquito River" in Swahili) for the first night. We were able to visit nearby Lake Manyara National Park that evening as well as next morning. The game viewing was absolutely incredible. I had never experienced anything like this in my life; the large, beautiful, compelling animals and the endless open vistas of Africa made a magical, indelible impression in my mind. This is no wildlife game park as we knew it, it's the primordial paradise. In the background of all this wildlife the majestic mountainous escarpment forming the Great Rift Valley marched in a straight line to the horizon. The next day we drove further west on a modern Japanese-built highway toward Ngorongoro Crater, a UNESCO World Heritage Site. On the way to the the Crater Highlands Massai herders could frequently be seen walking in their traditional red or purple capes. The largest intact volcanic crater in the world (12 miles wide and 2000 feet deep), the Ngorongoro epitomizes nature at its most compelling. Bones of earliest humans have been found at nearby Olduvai Gorge, and the nearby active volcano Ol Doinyo Lengai is the "Mountain of God" for the Massai. I suggested driving a bit off the beaten track to see this special mountain, but the long, rough trip on dirt tracks would have taken more time and gas than we had. The game viewing in Ngorongoro was a bit crowded: many safari vehicles vied for the best view points, but none of the big animals showed any concern for us. Lionesses even used the line of vehicles as cover to stalk their prey. This evening we camped on the rim of the crater in a magical setting overlooking the vast recesses below. The camp guards here carried rifles to guard against large predators. Dirk was excited to see an elephant roaming the vicinity, and during our drive to the campground we passed numerous giraffes.
The third day we drove to Serengeti National Park, the most famous African game park frequently shown on PBS back home. The long drive was over a wide dirt road in a completely featureless plain with low shrubs and dry, red dirt. In the distant horizons hundreds of miles away were chains of low ranges. The wide open views were mind-boggling, occasionally groups of animals could be seen traveling in the distance. As we got closer to the heart of the park the landscape changed to the stereotypical African savannah with occasional acacia trees grazed clean below the height of average giraffes. There were also occasional thickets, but dried grass was the predominant vegetation. Here our campground was well-equipped with dining pavilions surrounded by metal wire fences much like fishing nets, designed to prevent attack by predators. I tried to walk a couple hundred feet from the campground, but several passing drivers who saw me made sure to let me know that walking around was not allowed for my own safety. This was also the night of New Year's eve, Dirk specifically bought a bottle of champagne at the park store. As night darkened there were a few other tourist parties in the dining pavilion, one was a big Japanese party. We met a middle aged man from eastern Germany from another party who stayed on after dinner. Since Dirk also speaks German, three of us hung out that evening and shared the champagne among us. It was just great to have our own New Years celebration here deep in the African wilderness. The next morning Bakari took us around the vast park for more game viewing, here the most memorable for me was a large herd of elephants traveling in unison. I was impressed by how fast they walked and the powerful rumble of these majestic animals. Over these four days I had pretty much seen every species I've heard of in my childhood. To be able to see their full glory in close range and to be compelled by their power and beauty was just fantastic.
Technical climbing on Mount Kenya
Our Safari trip came to a close sadly as Bakari dropped us in Arusha to meet another bus heading back to Nairobi, Kenya. Arusha is the hub of the northern Tanzanian safari circuit with much modern tourist facilities. We had a meal in a very comfortable and modern-looking hotel but when the bill came we were surprised. Apparently their prices were designed to mislead. Since Dirk and I didn't have enough cash on us, after protesting the lady managing the place accepted what we had. Once arrived in Nairobi, we decided to stay in a different hotel: one with a nice cafe at the bottom floor. While having dinner we met numerous backpackers, one doing an overland trip from the southern to the northern tip of Africa (Capetown to Cairo). Quite incredible. Hearing that we planned to climb Mount Kenya, our hotelier immediately called up a trekking operator. A young, smart fellow named Josiah Waithaka from a company called Mountain Madness came to meet us the same evening. He appeared to have done technical climbing himself, unlike the more business-like travel agent lady we booked our Kilimanjaro trip with. Dirk and I were impressed, and the name Mountain Madness rang a bell (it's actually a well-known guiding company based in the USA, but we found out later that Josiah's company was unrelated to it). So we concluded a deal at a reasonable price with him, and he promised us to head for Mount Kenya the next day.
We spent 7 days on Mount Kenya, including the first day driving from Nairobi to Chogoria, a little country town on the east side of the mountain. We started pretty late since Josiah took some time to put together the car and some provisions. Peter, a robust, charming fellow came to join us. He would be our trekking guide from here on. As we traveled pass the highlands of central Kenya there were much lush forests, banana, tea and coffee plantations, a stark contrast with the arid Tanzanian landscape we'd been traveling through in the last weeks. In the colonial days English farmers coveted this fertile land; even now there are siginifant numbers of white-owned farms around here on land originally taken from local Kikuyu people. At Chogoria we met our 4 porters: John, Robert, Wilson, and Paul, 3 of which are Kikuyu and one is Meru, found on the east side of Mount Kenya. The morning of the second day, our trekking party laden with groceries and raw meat rode a jeep through the lush forests to the park gate. The deep ruts in the dirt track we were riding on got even deeper the further we went, eventually to about one and a half foot deep. Our jeep driver made a few moves that made Dirk nervous, then the jeep got stuck. It took a while for our guys to get it going again. Unlike the low-altitude trailheads on Kilimanjaro, the Chogoria park gate for Mount Kenya was at 9840 feet (3000 m) elevation, the landscape here was alpine moorland. We'd already passed through several eco-systems, including the beautiful bamboo forest belt.
Two buffalo skulls decorate the park gate, along with a sign warning of large animals. Then an elephant appeared, attracting attention from hiking parties. We started hiking around noon time on a hot, shadeless trail. The afternoon was spent hiking along the rim of a majestic U-shaped valley, among grassy slopes and low shrubs. This is Gorges Valley, formed by prehistoric glaciers. In the middle of the valley in the distance we saw a dainty high waterfall formed by a big elevation change of the valley bottom. The air was cool with light mists swirling around us, it's ideal hiking weather. The scenery was wonderful and magical, somewhat reminds me of the Lord of the Rings movies. There were many ups and downs during the day's hiking; later in the day I became sweaty and tired, lagging behind others. Peter decided to carry my pack for the last 2 miles, still it was one of my most painful hiking days (over 5000 feet elevation gain and over 10 km). Finally I reached our camp site beside a clear alpine tarn called Mintos tarn (14100 feet elevation / 4298 m). Surrounding the tarn are rugged volcanic crags, among which giant groundsel and lobelia plants unique to high mountains of East Africa proliferate. As the sun sets it became freezing cold and the giant plants helped create an eerie other-worldly atmosphere.
The next day our hike was much shorter as we trudged our way to Austrian Hut (15715 feet / 4790 m), the main basecamp for the summits of Mount Kenya. Enroute we traversed lots of scree and even passed an airplane wreckage. We arrived at camp fairly early, so I explored the sturdy building with several rooms where the porters from many parties were staying. The building sits on solid rock, but around it many solid ice patches formed from washwater. Both sides of the building has dramatic views: looking west one sees Mount Kenya's jagged central summits (Nelion, Batian, Point John, Point Lenana, Point Thompson) shrouded in swirling mists, majestically presiding over Lewis glacier; looking east one sees Hobbley Valley dropping down to the horizon bounded by two long ridges of peaks and a sea of clouds. Despite the copious beauty, I was occupied by worry: my stomach was not feeling good after several days at altitude, and I was coughing a lot. With a very long technical route ahead I needed to be as fit as I could be. The freezing cold and the chilling mists bothered me. We retired to the hut, where we made a decision to scout the beginning of our route the next day, and do the actual climb the day after. This meant we would have a rest day to adjust to the altitude, and also we would avoid wasting time looking for the route on the day of our climb.
The next day we had a late start, and chatted with a pair of mountaineers from Colorado over breakfast. The guy and girl had made the Mount Kenya summit in a single day. They were obviously very good climbers, the guy was a professional mountain guide. We then navigated to the start of the technical climbing route on the east face of Nelion, which took two hours. It required crossing the Lewis glacier, which was a piece of cake with or without crampons, then ascending about 800 feet of talus/scree. Along the way I discovered a dessicated carcass of a leopard, very unusual for this high altitude. Apparently it couldn't survive this cold country. There was another party there also scouting the route, and a Kenyan guide waiting. Dirk gave him instructions on rope techniques while waiting for the other party to move further. Then Dirk attempted parts of the first two technical climbing pitches without roping up, it looked fairly easy. We returned to camp for lunch, then in the afternoon Dirk went for the summit of Point Lenana (16355 feet / 4985 m elevation) with our guide Peter. I declined to go because I was still not feeling well. I vomited food after having a meal, and felt emotionally overwhelmed. I stayed in the hut to rest up, or walked around camp to take pictures when the sun was about to set.
The next morning we got up at 4 am, our porter Wilson cooked pancake for us and saw us leaving camp after the quick breakfast. Hiking up the approach route was not easy because of the 800 feet elevation gain and our heavy packs, including sleeping bags, food and water for two days, ice axe, and crampons. As day broke we started out on the technical route Dirk leading each pitch and I following. There was a South African party of 2 who passed us before we got on the 1st pitch, then soon disappeared from sight. The mists started to surround us around 10 am, when we were close to the east ridge of Nelion. There was a stretch that Dirk thought was easy, but the heavy pack on my back made it much harder to balance on easy but exposed rock, so I panicked. I got Dirk to give me a belay there for a bit of peace of mind. Route-finding was never easy, after studying our guidebooks carefully we were able to find the correct route throughout the day. We moved on and on in the cool mist, except for one time my butt got wet from sitting on a belay ledge with snow, in general it was not as cold as I had anticipated. Of course I was using full protection including a heavy mask, parka, and gloves. By the time we reached Point Nelion at 17021 feet / 5188 m elevation, it was about 5:30 pm and the South African guys (Matt and Roger) were already there. Amazingly they had already climbed Point Batian from here and returned. It was a great relief for me to be done for the day, and even more so after seeing that the sturdy 6' x 6' x 4' metal box called "Howell's hut" was indeed a feasible shelter, securely bolted to the summit rocks. The summit of Nelion was small, only 20-30 feet across with precipices on three sides. From here we saw Point Batian, the true summit of Mount Kenya, only a few hundred feet away - a brooding giant with near vertical rocky faces. We were even able to see Mount Kilimanjaro in the distant horizon above the clouds, over 200 miles away. Majestic views surrounded us in every direction, with swirling mists floating around the rocky spires and Lewis glacier quite a ways below us. We had good conversation with Matt and Roger while doing the chores for the evening. I was glad to hear that Roger works in the urban planning field in Cape Town!
Overnight it was surprisingly warm in the box with four guys crammed inside. The box was well insulated with foam pads, and my thermal blanket and sleeping bag certainly did their jobs. Matt decided to sleep outside at some point in the night, probably annoyed by my and Dirk's constant coughing, or maybe it was simply too crowded. At one point Roger told me I was snoring, which woke me up. This became a joke Dirk kept telling others about me later on. I went outside to use the toilet and found it was not as cold as I expected. The air was amazingly still and no mist whatsoever.
The morning was sunny and glorious. No mists, only full view of Batian and the landscape far below us, free of clouds. The South African chaps went down, while we headed over towards Batian. This was the most challenging, almost harrowing part of the climb. We needed to descend 300 feet down to a gap called Gate of the Mists, then ascend the east ridge of Point Batian, a mere 37 feet higher than Nelion. Our descent from Nelion was at first manageable solo down climbing, then we rappelled down a buttress to the gap. We left the rappel rope there for later use. The gap was a thin knife edge surrounded by loose snow a few inches thick, offering no tracting to the foot. We needed to tread carefully as these snowfields dropped off on both sides precipitously. Once we crossed the gap, I accidentally dropped a walkie-talkie down there (while taking a photo of the dramatic landscape), never to be retrieved. We stashed ice axes at the gap to be retrieved on our way back. On the side of Batian, after ascending a few well-protected snow steps, we were on solid rock which was much preferred. Dirk set up and lead three pitches of face climbing on beautifully textured rock of a golden color, harder than granite it seems. In the last pitch it was easy enough we just unroped and scrambled to the summit. It was a great feeling to be at the top of Africa's second highest peak finally, after so much preparation and so much effort. However, we needed to get back safely, and we needed all the time we could have. So we stayed on the summit for less than 10 minutes before starting to head back. Rappelling down the three rock pitches were easy except for the last pitch, where Dirk rappelled to the wrong (left) side of the gap. That side was much more treacherous with steep snow and exposure. Not knowing this, I waited for Dirk for almost half an hour and did not hear from him respond after repeated shouts. Finally I heard he's getting himself out of the difficult terrain. He had to unrope himself in order to downclimb, which I couldn't imagine in this extremely exposed terrain. I retrieved my ice axe at the Gate of the Mists, at this time one side of the gap was already shrouded in the famous mists. Once Dirk made it safely to the gap, he started climbing up a steep snow pitch with some well-formed foot steps by previous climbers. About 10-20 feet away is the precipice. I couldn't follow this, it's just too much exposure without protection. I waited till Dirk made it up the rocky buttress so he could give me a belay. I roped up, then gingerly traced those footsteps in loose snow. Without protection here, one slip you're gone, no self-arrest is feasible with an ice axe. Even with the rope, if I slipped on the snow the rope would have taken me swinging to another side, maybe landing in even more treacherous terrain. After I climbed up this most appalling section, Dirk decided to continue up solo. I wanted a belay but he said it would take too long, he encouraged me to climb this section solo too. I decided to give my best shot. We were still in steep snow, sometimes just 10 feet from the edge of precipice; the only way to ensure some safety was to hold onto the rocks that protrude from the snow here and there. This turned out to be doable, so I did this section with the utmost care. There was no room for error at all, it was extremely nerve-wracking. After about 10 minutes, we were in much easier and safer terrain with much less snow. I could handle that more confidently. We made it back to Nelion and the metal box shortly after. This trip to Batian and back took us 4 hours.
Having done the toughest part of our climb, we rested for an hour. It was about 1 pm, we needed to head down. We started looking for rappell anchors according to descriptions in our guidebook. The first few were relatively easy, except one Dirk missed I was able to find when I rappelled second. As we reached the east ridge of Nelion, we just couldn't find the next anchor. We had to create a makeshift anchor, seeing that others had done this before by the gear they left here. Then we were able to find a few more anchors, but then we were stuck again. In the second-to-last rappell, the landing ledge was on the climber's left side, but I couldn't make myself go that way because of my heavy pack. I was exacerbated. I struggled with the weight on my back and the rappell rope in vain. Dirk was able to grab me after encouraging me to swing back and forth, eventually helping me land safely. Having lousy luck finding the next anchors we decided to make another makeshift anchor since the day was getting late. It was a big relief when we finally reached firm ground. We survived! We made it! The sun was setting now. Extremely exhausted, I hiked down slowly, eventually crossing the Lewis glacier when it was dark enough to need headlamps. At the other side of the glacier, we saw Peter, Paul, and Wilson waiting. They had come to meet us! It was such a relief to see them. Paul eventually picked up my pack, which helped me walk the last few hundred feet to camp. Peter told us they were very worried about us, but later in the day they were able to see that we were descending the mountain but missed several rappell anchors!
Our porters greeted us with hot tea, and Robert excitedly told us about watching us descending the whole afternoon. It was just great, people in the whole hut discussing about our missed rappell anchors! The hardest part of the trip was finally over, Dirk was elated that everything went successfully according to plan. The next day we hiked out toward Sirimon gate on the north side of Mount Kenya. After descending tons of elevation and seeing countless giant groundsels and lobelias, we took a break at Shipton's camp in Mackinder Valley. Here the north side view of the central massif was superb, with many small glaciers visible surrounding Batian and Nelion. This is a very comfortable facility and we met more tourists. After a short rest we proceeded further on an endless landscape of shrubs and grasses, among which roamed a plump pheasant-like bird called francolin. After many many miles of downhill, it started to rain and we hurriedly made it to the next camp - Old Moses camp, elevation 11155 feet / 3400 m. This was quite a comfortable camp with a nice series of buildings, although we camped outside in the crisp clear air. The lower elevation was a great welcome, as I was finally rid of the stomach upsets that plagued me everyday at Austrian Hut. The last day we hiked down for just 2 hours to reach Sirimon gate (elevation 2440 m / 8005 feet). Tons of wild flowers appeared along the trail, along with wonderful vistas of the lower flanks of the mountain and lush forests.
From park gate we went to the town of Nanyuki, where we enjoyed a beer and the local barbecue, called "Nyama-choma" (I think I got a case of the runs from it). The facilities were very basic but the people cheerful. We tipped our guide and porters generously, then parted our ways before heading to Nairobi with only Peter. As we passed the town of Karatina Peter told us this was his hometown. Finally we were back in Nairobi in the same hotel as before, enjoying a bath and relaxation. The next day we made arrangements to fly to Zanzibar for the last 6 days of my stay in Africa. Before leaving Nairobi we made it to the famous restaurant "Carnivore" and ate all kinds of game meat buffet style. It didn't take long for us to become extremely full.
Tropical Island Zanzibar
Zanzibar, part of Tanzania ("Tanzania" is a composite name created from Tangenika and Zanzibar), is the heart of Swahili culture, one of the most historic places in this part of the world. It has a mixture of African, Middle Eastern, and Indian cultures, and most people here are muslim. The old town of Zanzibar, also called Stone Town, is a relaxing place by the Indian Ocean, filled with exotic scents and sights among the labyrinthine alleyways much like a typical Arab town. The tourist facilities here are quite a bit more comfortable than in mainland East Africa we've been to, even Nairobi. It was high summer in this part of Africa south of the Equator, days on Zanzibar were pretty hot. We took a boat tour of the sandy islands around the port. It was my first snorkeling trip and it was a wonderful experience. The turquoise waters and the clean white coral sands were incredible, as were the colorful exotic shells we found. The coral sands were very prickly to the foot however, and I also stepped into some sea urchins, ouch! Besides, I got severely sun-burned during just 1 hour or so of snorkeling, which took more than four weeks to completely recover. During the boat trip we also visited a sactuary for giant tortoises from the Seychelles, who were surprisingly agile despite their giant size. These are the world's largest land tortoises. Dirk almost got run over by a 600 pounder going for the cabbage in his hand. The Indian-Zanzibari owner of the waterfront Indian restaurant where we booked our boat trip is quite a character, full of personality. His name is Joshi, and he related to us a lot of local political anecdotes.
Regarding the culinary scene, we visited the night markets on the waterfront where grilled seafoods were served (this gave me stomach ache, unfortunately); Dirk was amused to find Chinese restaurants where pork was not on the menu. We also chatted with a young local fisherman at the night market, he was easy-going and fun to talk to. While we browsed the souvenir boutiques along the alleyways, a sykes monkey stringed to the fence of a church caught our attention. When I tried to pet it, it snatched money out of my pocket with lightning speed! However, I was able to grab my money from its grip since it's tied to the fence and couldn't get away. Another night we relaxed in Freddie Mercury's bar, named after the late British rock star born in Zanzibar. The last two days on Zanzibar we spent on the east coast of the island, at a luxury resort in Jambiani. Because it was low season, we had the whole beach resort to ourselves. It was very relaxing by the swaying palms gazing out to the turquoise Indian Ocean. In the evening we went to a dance party on the beach and mingled with local young people.
All in all, our trip to exotic and fabled Zanzibar was truly memorable, fun, and relaxing. Our Africa trip was both a major accomplishment, and an incredible growing experience.