Bear Creek Spire Ascent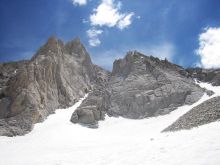 This was a 3-day backpacking and climbing expedition to the Rock Creek area of eastern Sierra Nevada, on July 3-5 of 2004. Vladimir Ulyashin and I succeeded in climbing Bear Creek Spire, 13720 ft./4182m. After Mount Dade (2000) and Mount Abbot (2001), this is the third peak in the Rock Creek group that I have attempted over the years. While Dade is rated class 2 in difficulty and Abbot class 3, the summit rocks of Bear Creek Spire is class 4, making this the most difficult peak I have successfully climbed so far (Cathedral Peak is also class 4, which I attempted last year but did not summit). We were to climb the "Ulrich's route", the easiest route on Bear Creek Spire, with a class 4 headwall section and summit block. Since September 2003 Vlad and I have been training in the climbing gym (Berkeley Ironworks), and have learned some basics of technical climbing. I brought my rock shoes in anticipation of the class 4 climbing, while Vlad brought a bag of climbing gear including a 60-meter rope. In addition, I researched online at Summitpost.com and found a detailed description of the route, including a photo of the class 4 headwall by Bob Burd, who red-lined the possible climbing routes on it. I carried printouts of these to the mountain for reference.
Bear Creek Spire is a high and amazingly handsome peak. It is composed of a complex of ridges and buttresses that culminate into a soaring summit block with steep walls on all sides. Located at the center of an amphitheatre of high peaks in the upper Rock Creek basin, this peak's majestic form is familiar to anyone who has been to this part of the Sierra.
As usual, on Friday night (July 2) we drove 6 hours to Mammoth Lakes and camped near the Ranger Station, in hope of getting in line for wilderness permits when it opens at 8 am. Being the Independence Day weekend we were worried that quotas for wilderness permits would be filled quickly. Luckily there weren't many people in line when we got there, so we obtained the permit without problems. We were also required to carry a bear-proof food canister on our trip, this adds about 2 pounds of extra weight in our backpacks. After getting breakfast and some groceries, we headed to the trailhead - Mosquito Flat, about 30 minutes away. When we got there around 10:30 am, most of the parking spaces were taken, so we grabbed one of the last overflow parking spaces. Fortunately the overflow spaces were not that far from the trailhead, unlike the South Lake trailhead on Bishop Creek. We started walking around 11:15 am from the trailhead, already at elevation 10140'/3091m.
We intended to camp at Dade Lake, at 11580' elevation about 4 miles from trailhead via the Morgan Pass trail and some cross-country travel. Being a relatively flat trail I expected it to start out fairly easy, but I felt out of shape. Besides a pair of ice axes, I was carrying a normal load, while Vlad carried the food canister and climbing gear which were a lot heavier. The air was moist and clouds frequently shaded out the sun. The landscape was a familiar one - I've hiked this place many times. The creek was full of rushing water, lush vegetation were sprouting everywhere, many pretty wild flowers were blooming. However, to our annoyance mosquitoes were out in force, undeterred by bug repellent sprays. The handsome form of Bear Creek Spire was visible from the very beginning, crowning the far end of the valley. Soon we passed a series of lakes, often with luxuriant marsh grasses growing within.
We left the trail to go cross-country after about 3 miles, ascending a series of gentle granite slabs. We reached a place with a 20-30' granite cliff, where we practiced top-roping, a kind of rope-protected climbing, using Vlad's equipments. Vlad also practiced rapelling there. After a little fun we pressed on higher. Soon the weather turned gloomier and suddenly it started hailing. We spread out my mat and hid underneath it for a while. It turned into rain and continued drizzling. We put on raincoats and continued onward during a lull. On top of this small ridge (call it the "Camp Ridge") there were some snow banks and ponds collected from melt-waters. We found a particularly nice one and decided to set up camp, although it was not even 5 pm. Vlad was exhausted due to lack of sleep the previous night and lack of acclimatization to the high altitude, so we snuck into our sleeping bags around 5 pm. Our camp site's elevation was about 11240'/3426m.
After some more wind and rains, the sky turned completely clear by midnight when I woke up, filled with bright stars. The nearly full moon was shining on the surrounding mountains, forming a surreal scene. We woke up and decided to cook some food. I felt cold in my sleeping bag, but after drinking hot soup I felt much better. The next morning I woke up early, but battled swarming mosquitoes immediately after I came outside. We left camp around 9:45 am, after some breakfast and filtering water from the pond.
We followed the "Camp Ridge" scrambling southward, then ascended a higher ridge (call it the "Lake Ridge") by the side of Treasure Lakes, where I camped in 2000. The climbing was sometimes tricky and slow-going. When we topped out on the ridge we were faced with the snow bowl on the north side of Bear Creek Spire, flanked by Pyramid Peak on the left and Pipsqueak Spire on the right. Dade Lake sat at the bottom of this bowl, still mostly frozen and covered with snow. We also spotted several climbers walking up the snow slopes, and many foot tracks in the snow leading forward. We followed the main tracks around the gentler sloped left side of Dade Lake, then up and right crossing a few rock bands, heading toward a gentle ridge coming down from Pipsqueak Spire. We found ascending the snow to be very easy; the snow was not too hard or too soft, and the slopes were not steep. The thin air caused us to rest frequently, however. After gaining the gentle ridge, we were now facing the couloirs leading up to the right shoulder of Bear Creek Spire. The top of these couloirs is a pass called Cox Col, a cross country route leading to the western slopes of the Sierra.
Two climbers caught up with us, both wearing shorts and sneakers. Vlad commented on the dangers of sunburn. They sat down and they seemed to not be too familiar with the area. After a few words Vlad and I pressed on. The snow became steeper, and my two ice axes became very helpful. After more trudging we reached the two couloirs. Following the advice of Secor's guidebook, I choose the left side one. The snow slope became more than 45 degrees, and soon I was sinking deep at every step. Vlad suggested moving to the rocks on the side of the couloir, which looked not too hard. We did, and climbed some treacherous class 3 rocks until topping out.
Now we were at Cox Col, the southwest side was indeed gently sloped as expected. I stashed the ice axes there, then we saw the two climbers we met earlier were already there! They must have come up the right side couloir. It turned out they're from Oakland, and they climb at the same gym as us. What coincidence! We continued on ascending the gentler slopes of the northwest face of Bear Creek Spire, through scree and talus. The talus got steeper as we went higher, where it turned into a dramatic vertical wall. The right side of the wall was the highest, but also the least steep. Vlad contemplated climbing the horrifyingly exposed wall on the left side, but the correct route climbs the right side. I went up to the base of the wall through some frustratingly difficult class 3 climbing, while Vlad went up further ahead. Lastly, I reached a point where the rock wall in Bob Burd's photo looked exactly like what was in front of me. It was indeed difficult and exposed. I changed into my rock climbing shoes, then climbed a shortcut of Bob's route. The footholds were tiny, but with help of the shoes I made it to the top of the headwall and on to the summit ridge. I saw Vlad sitting on the summit block already. I negotiated the terrifyingly exposed 20-feet long knife edge using the utmost care, and soon found the summit register in a metal can. It was exactly 5 pm, so I took roughly 7 hours and 15 minutes to ascend the peak.
I declined to try climbing the dramatically exposed summit block, only a few feet higher. I made a cell phone call, wrote in the summit register, ate a snack, took pictures, then we discussed how to get down. Vlad proposed rapelling down, as we found a rapell sling near the summit. After some argument over technique, we proceeded rapelling down the headwall on the west side. This side is close to the northwest slope, where we climbed up, and the lower terrain seemed quite easy. It took quite a while to arrange the rope, and by 6:30 pm we started descending from a point 30 meters below the summit in gentler terrain. The descent to Cox Col was fast and painless. I picked up the stashed ice axes, and Vlad suggested using the right side couloir since other people were all using it. It was indeed easier than the couloir we ascended.
We planned to glissade (slide down) down the snow slopes as it would save time. When we reached snow in the couloir we wrapped our butts in raincoat and started sliding. It was quite fast and dropped hundreds of feet very quickly. Later on however, the slopes were less steep and we were often mired. I decided to run down the slope, which was easy and painless. The sun was starting to go down, and our jeans were wet from glissading, it became increasingly uncomfortable. The sun finally set around 8:20 pm, when we were by Dade Lake. We didn't know many hours of frustration was to immediately follow.
We descended the "Lake Ridge" too early, and soon got mired above cliffs guarding Treasure Lakes below. It would have been obvious if I had looked at the map more carefully, but I didn't. In attempts to find a way down, Vlad slipped on a handhold but fell fortunately into a snow slope. He was unhurt. I backtracked and found a safer way down to meet him. We decided to follow the banks of Treasure Lakes and ascend later to "Camp Ridge". It got darker sooner than we would liked, and we in fact ascended a wrong ridge. Our camp was nowhere to be found. We walked around for hours furtively, got increasingly frustrated and exhausted, then Vlad had an idea. We studied the video of the landscape surrounding the camp site that he shot in the morning, and compared it with the current view of the mountains. With careful comparison we concluded that we hadn't gone far enough north and east. We descended and ascended the next ridge, until when the current view looked very similar to the video. After a few more rounds of searching, we finally came upon the pond and our tent. It was exactly midnight. I count ourselves lucky that we didn't need to bivouac for the night.
The next day we packed camp and hiked out. It was fairly uneventful except during the cross-country descent of the "camp ridge", we again were mired by cliffs because I didn't bother to look at the map carefully. With the daylight at our disposal it didn't take long to find a suitable, although fairly difficult path down the ridge to meet the trail.