Climbing Mount Dade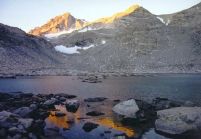 This was a backpacking and climbing expedition in John Muir Wilderness in California's eastern High Sierra. On Septermber 2-4 Labor Day weekend in year 2000, Steve Dai and I camped at Treasure Lakes in Rock Creek basin for two nights. This was a weekend of less than perfect weather, with a big rain storm on the western slopes of Sierra Nevada and gusty winds on the east side. The route from the trailhead at the end of Rock Creek Road (10240') to Treasure Lakes (11075') is mostly an easy trail walk on Morgan Pass Trail with a small elevation gain. Near the end there is a short section of scrambling over a hill of granite slabs to reach Treasure Lakes from the trail at Gem Lakes. The route traverses popular Little Lakes Valley surrounded by an amphitheatre of high peaks: 13748' Mt. Morgan, 13711' Bear Creek Spire, 13713' Mt. Abbot, among others.
On 9/3 we set out to climb 13600'+ Mt. Dade, which is between Abbot and Bear Creek Spire. It's an impressive peak with a steep north face and deeply furrowed snow couloirs leading to a sizable glacier below. The easiest way to the top is reportedly through the "Hourglass Couloir", a wide, 1000' high snow couloir whose slope approaches 40 degrees. On our way up we tried to avoid the "snow" in the couloir which was actually hard ice this time of year. We climbed up on the right side of the couloir along its cliff wall. However the extremely loose rock and the steepness made our footing precarious. We vowed to take an easier path down, probably through the visible path that was cut into the ice patch in the couloir. Once we made it above the steep part, we walked toward the summit on class 2 terrain around 25 degrees steep. There was a thousand feet to go, and the cold winds were blowing hard, almost pulling me off the slope sometimes. After a few hundred vertical feet we decided to retreat, as the time was approaching 4 pm and I was feeling weak and short of breath. We probably reached somewhere around 13100'-13200', after climbing for about 6 1/2 hours.
On our way down we descended the middle of the couloir in the loose rock and sand. My ice axe proved very helpful in stopping me from sliding. Making it across the ice patch was difficult and frightening. The ice axe could not dig in deep in the hard ice. Fortunately the little bit of soft new snow accumulated in ice depressions gave us better footing much of the way, but where they're absent the danger of falling was high and we didn't have adequate protection. At last we both made it down in one piece, and vowed never to do the same again. I suppose in early season the snow patch has not yet consolidated into hard ice, which would make ascending Mt. Dade truly a class 2 climb as described in guidebooks. My ascending the summit of Mt. Dade will wait till such a day comes.
Here are some pictures taken on this trip: