Climbing Mount Shasta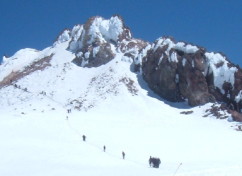 This was a 2-day backpacking and snow climbing expedition to Mount Shasta, 14162 ft./4317m. Mount Shasta is the 2nd-highest Cascade volcano in the US and the 5th highest mountain in California. It is a singular massif that dominates northern California and southern Oregon for hundreds of miles. On July 14-15, 2006, our party of 6 successfully climbed Mount Shasta via the most popular and easiest route - the Avalanche Gulch. This is mostly a snow climb with ice axe and crampons, it has a class 3 rating for the steepest section around the Red Banks. Our party consisted of Kassim and brother Rasool, Eszter and sister Nora, Bert, and myself.

Kassim and Eszter had climbed Mount Shasta via the Avalanche Gulch around the same time in 2005 on a guided trip, so they were familiar with the preparation and logistics. Rasool traveled from Los Angeles specifically to climb Mount Shasta. Nora was the youngest member of our party, she just finished high school. I had wanted to climb Shasta for a while, all sources tell me that Avalanche Gulch route in early summer is the best option because of likelihood of good weather plus the still-firm snow cover on the route allow for good cramponing. We arrived at the Bunny Flat trailhead (6880 feet elevation) on Thursday evening of July 13th, and camped by the road side. In the morning we drove the short distance back to Mount Shasta City to get breakfast and to obtain permits. A little after noon we backpacked up the trail to Horse Camp, our planned camp site for the night. The 2 mile distance went by fairly quickly in the early afternoon heat. It took a little over an hour to ascend to Horse Camp, elevation 7800 feet. I decided to set up camp away from the others and do my own cooking. Since it was still early, several of us headed up to a nearby snow slope to practice self-arrest. This was fun and helpful. By dusk Eszter called me to join the others at their camp site. The group dynamic was unfortunately not what I was used to for a mountaineering party. Despite being married Kassim was fixated on the younger women and insisted on having intimate conversations with them while excluding the other guys, especially his brother whom he saw as his competition. I had good conversations with Bert and Rasool while this awkward scene played on and on; I found Rasool to be a really friendly guy. The morning of Saturday we got up around 2 am, and started walking up at 2:45 am. Since the elevation difference from the summit is 6400 feet, most parties start around midnight to ensure completing the route in one day. Doing most of the climbing at night is also more efficient than during daylight because the snow would be firmer and easier to walk on with crampons. After about half an hour we all put on our crampons, then we gradually split up. I followed Bert and Rasool on the right side of Avalanche Gulch, Eszter, Nora and Kassim followed a line in the middle. The slope steepened gradually, yet it was quite benign because below us was a large snow bowl without any rocks. About 2 hours later the sun rose, I could see the shadow of Mount Shasta itself shifting on the vast landscape below us, an amazing sight. Around Mount Shasta the highest mountains are more than 4000 feet below her, they look totally insignificant from here. The slope on the right side became rather steep, so I started to feel apprehensive. The snow was stiff and made a crunchy sound every time I planted my crampon in it. I slowed down my pace to make sure I get good traction in every step. The steepness was also spooking Rasool so he moved toward the others in the center of the gulch. Bert kept his fast pace on the steeper right side, and soon climbed out of sight. I needed to take a dump, which further delayed my progress. When I resumed climbing I was pretty far behind, as none of the others were in sight. I could see that most climbers were heading for the far left chute in the Red Banks, so I gradually traversed toward the left side of the gulch. The footing were not too bad but if I slipped I would probably slide down hundreds of feet easily. Trying to catch up with the rest of the group, I ingested an GU gel pack and started climbing faster because of the energy boost. After seeing how other climbers get through the Red Banks - the steepest part of the climb, I followed suit and climbed up the left-most chute. Above the Red Banks the going got easier. After ascending another little hill I took off my crampons since the snow had become too soft under the sunshine. Here I saw the rest of the group except Bert, who was far ahead. I caught up and walked with the group up the rocky Misery Hill, then to the summit plateau. This place has an amazingly beautiful view in all directions, with a lot of snow and ice adorning the various ridges and peaklets. Kassim was visibly exhausted and said things like "climbing Shasta once is enough". He lagged behind the group and Eszter stayed with him. Rasool was pretty exhausted but Nora was energetic. Three of us went together up the last hill to the summit. Nora and I made the summit around 12:30, then came Rasool, and about 40 minutes later Eszter and Kassim also made it. The summit is a rocky pinnacle quite small for a mountain of this giant size. It has some steep drop-offs on three sides. Nora congratulated me for catching up to the group after being behind. Before I had time to thank her, Kassim interjected to tell her that I wasn't worthy of praise. How ridiculous this came not from some younger guy but someone who tries to project an "older gentleman" image. The descent was not too eventful until the Red Banks, where the slushy steep snow made for very slippery footing. I decided to walk carefully down the side of the chute, using rocks to help with traction. Kassim came and decided to glissade down the chute. He promptly lost control and dropped his ice axe, but ended up safely below. I wanted to help retrieve his axe, but was too afraid of losing control and sliding down. Using my ice axe I was only able to move it a bit further down the chute. Rasool came and saw the situation, he decided to go into the chute to retrieve Kassim's ice axe. This he did before he also lost control in the chute, but he was able to stop himself further down where the slope became less steep. I did most of the rest of the descent by glissading. I sat on my butt and wished the slopes were steeper so I could slide further. There were many tracks from other glissading climbers. This is the fastest and the most energy efficient way to descend the soft snow, it was also a lot of fun. It made the 6400 feet descent to camp much more bearable after a long exhausting day. We finally made it to Horse camp around 5:30 pm. Not only was I absolutely exhausted, I was also heavily sun- burned, not having bothered to put on any sunscreen for the whole 15-hour day. With reflection from the white snow the strength of sunlight was doubled. My face was painful (it took two weeks for all the dead skin on my face to peel off) and my spirit was low. I wanted to stay at camp since I prepared enough food for dinner, but the others decided to head down to the trailhead so they could get a restaurant dinner. After Kassim and Eszter made this decision without my input or even presence, Rasool came to inform me of the group's decision. Since Eszter and Nora rode in my car I didn't want to make things difficult for them by not going with the group. I ate my food to regain some strength, then packed up camp to head down. The walk down to Bunny Flat was supposed to be easy, but I found it very difficult especially with my heavy camp gear. Since the others shared their camp gear they had lighter loads per person. I could only walk at a very slow pace. Rasool passed me and offered to take some load from me, but I refused out of pride. Then Kassim passed me after advising me that putting on sunscreen was very important. I kept going on at a snail's pace, and nearer the trailhead I saw Eszter and Nora stopped on the trail. Both offered to take some load from me, I just couldn't refuse their kindness. Nora was walking with a sprained ankle, but she still took something from me. I was thankful. Now I was able to walk a lot better, it was both a physical and spiritual boost. No sooner than we arrived at the trailhead did Kassim make a thinly veiled comment of disapproval toward Eszter when he saw her helping me out. This has been a successful trip to my third 14er in California, but it was also emotionally exhausting especially because of the group dynamic. It was physically one of the hardest trips I've done (largest per day elevation gain so far) yet technically one of the easiest. I learned a hard lesson about picking the right people to do trips with.