My Tibet Journal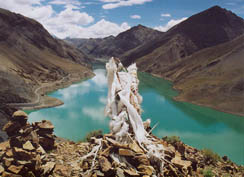 This was my first time in Tibet, from June 19 to July 7, 2002. Tibet occupies the highest plateau on earth, where all major rivers on the Asian mainland trace their sources to; it is a very large, sparsely populated land. The core regions of Tibet constitute Tibetan Autonomous Region of China. Outlying Tibetan regions are incorporated in four neighboring Chinese provinces: Qinghai and Gansu (Amdo region), Sichuan and Yunnan (Kham region). All Tibetans follow Tibetan Buddism (also known as Tantric Buddhism), which is also practiced by Tibetan-related peoples of Bhutan, Sikkim and Ladakh (both are a part of India), parts of Nepal, as well as Mongolians and related peoples in China, Mongolia and Russia.
Holy city Lhasa, the capital
We arrived in Lhasa by plane from the Chinese city of Chengdu, the capital of Sichuan province. From the plane window I saw astounding huge mountain ranges marching to the horizon, one after another in un-ending sequence. I also recognized the sharp snow-capped spire of Minya Konka, 7556 m./24,790 ft., the easternmost of Tibet's highest peaks.
The first day I experienced light headache, a reaction to the altitude of Lhasa which is over 3600 m./11,700 ft. (Over the course of the trip I suffered from severely chaffed and bleeding lips due to the excessively dry air here. The symptom only went away when I descended to lower altitudes.) The midday sun was overbearing, but more comfortable in the late afternoon. The sunset scene was beautiful on the bank of the wide, peaceful Lhasa River (Kyi Chu), backed by a continuous range of massive peaks soaring to 1800 m./ 6000 ft. above the valley.
The Barkhor neighborhood of east Lhasa around Jokhang Temple is bustling all the time with pilgrims from everywhere, many in colorful traditional dress and wearing lots of jewelery. The place is full of merchants selling a wide variety of exuberant ornaments and handicraft items, all with religious symbolism. I was astounded by all kinds of lavishly beautiful artistic and religious expression of Tibetans, on clothes, ornaments, doors and windows, curtains and awnings, murals everywhere (all interior walls and some ceilings in the hotel I stayed at), even the top of trucks are adorned with rich assemblages of carved religious symbols. Arguably Tibetans are the most devoutly religious: many pilgrims took months to travel here by primitive means (some perform full-body prostration at every step for 1000 miles), then give all their wealth to the monasteries here.
Modernity is part of Lhasa and Tibetan people as well. I was somewhat surprised that almost all businesses (hotels, stores, tourist agencies, etc.) I dealt with were staffed and supervised by Tibetans, only restaurants have a bigger Chinese presence. All of these Tibetans spoke good Chinese (Mandarin), and quite a few spoke a little English. Lhasa Tibetans are a sophisticated bunch, friendly, well-mannered, optimistic, always dignified, often philosophical. My impression of Lhasa is truly a vibrant, enchanting, and quintessentially Tibetan city.
Jokhang Temple, the oldest and holiest shrine in Tibet, was built 1400 years ago in the heart of the city. The top of Jokhang is adorned with several gold-gilded roofs and many glittering golden religious objects. From the top there is a fabulous 360 degree view of the city, along with a fine view of Potala Palace occupying a commanding hill top. There we witnessed Tibetan workers singing and dancing in rhythm while stomping on a freshly mortared part of the roof.
Potala Palace, the former seat of the Dalai Lamas, is the largest fortress and palace complex in Tibet. It is a spellbinding, majestic structure, topped by golden roofs. Inside are countless magnificent treasures and relics, including huge funerary stupas of past Dalai Lamas. The 5th Dalai Lama has the largest, 4 story high stupa which was built using nearly 4 tons of gold and innumerable gems. In the upper courtyard of the Potala a team of artisans were repairing a huge thangka, the traditional type of embroidered wall hanging depicting religious images. This thangka was too big to fit in the courtyard, which was at least 100 feet/30 m long and wide. The thangka will be hung from the huge front wall of the Potala fortress during a religious festival.
Sera Monastery, along with Drepung and Ganden monasteries, were the "big three" Gelugpa sect monasteries near Lhasa. Drepung at one time was the largest monastery in the world with more than 10,000 monks. Throughout Tibet most monasteries were severely damaged or destroyed in the 60's and 70's. However, I saw no ruins at all at the big monasteries here, and most of the interior statues, murals, and other relics are in exquisitely beautiful shape, apparently due to massive rebuilding and restoration work going on since the 80's, partially financed by the Chinese government. Sera Monastery is a veritable city onto itself nestled at the foot of a large granite peak on the edge of Lhasa. Here we witnessed a theological debating session, which took place in the afternoon in a shaded courtyard. Hundreds of monks clad in dark red robes quizzed each other in pairs, employing a distinctive hand-clapping gesture. Behind the monastery some granite boulders have been painted with large, exquisite religious images in brilliant colors.
Shigatse, Tibet's second city
On June 25 We hired a Toyota Land Cruiser from Khada Travel Agency near the Barkhor for our trip to Mount Everest base camp. We got a Tibetan driver with 25 years of experience; he had already been to the Everest base camp five times this year. We got on the road toward Shigatse in early morning, following the course of Lhasa River, then upstream along the Yarlung Tsangpo (Bramaputra River, the main river in central Tibet). After an hour or so the road deteriorated into a dirt road clinging to the side of a scenic canyon of the Tsangpo. By about 1 pm we arrived in Shigatse (3900 m./12,700 ft), the second largest town in Tibet, the capital of fertile Tsang region and the traditional rival of Lhasa. However, despite its many modern buildings, Shigatse looked like a sleepy place in the harsh midday sun, without a lot of people or bustling commerce. Here the Tibetans are dressed in clean, neat traditional robes; apparently they are locals, not pilgrims from far away places. The pace here is much slower than Lhasa, and not many local Tibetans spoke fluent Chinese.
The highlight of Shigatse is Tashilhunpo Monastery, Tsang region's premier Gelugpa monastery and the seat of Panchen Lamas. Panchen Lamas were traditional rivals of Dalai Lamas; the current (11th) Panchen Lama is controversial because the exiled 14th Dalai Lama considers him illegitimate. Tashilhunpo monastery, with its golden roofs and beautiful row of large white stupas, is better maintained than all the Gelugpa monasteries in Lhasa, likely because it is the seat of the one high lama, or god-priest still residing in Tibet (14th Dalai Lama fled to India in 1959, along with many others). In Tashilhunpo hundreds of monks attended rituals presided by Panchen Lama; we also saw the Panchen Lama close-up in a blessing ceremony; he's a smiling boy of about 10 years of age protected by many security guards.
Mount Everest base camp
Next morning we left for Dingri county where Mount Everest is located. The road conditions got much worse; the day was spent mostly in a long, bumpy, dusty ride. We had to breathe lots of dust and everything in the car was covered in it. Near Shekar town we had lunch in a roadside restaurant, where we bought a well-preserved fossil nautilus from a Tibetan boy there. Because Tibet was under the ocean only a few million years ago, this kind of fossils are commonly found here. At Gya'yu-La (mountain pass, 5060 m./16,600 ft.) we were treated with a magnificent view of snow-capped peaks to the south: Everest (8848 m./29,028 ft., the highest peak in the world, its Tibetan name is Chomolangma), Lotse (8516 m./27,939 ft., 4th highest), Cho Oyu (8153 m./26,748 ft., 8th), and Makalu (8463 m./27,765 ft., 5th). However, the clouds prevented us from seeing the tops of the peaks so we couldn't identify them. After Gya'yu-La we descended into broad glacier-sculpted valleys with numerous plots of green fields and a few villages. The huge smooth hills around the villages are extremely barren with not a single shred of vegetation.
We arrived at Mount Everest's north base camp along Rongpu creek in mid-afternoon. The elevation is 5100 m/16,700 ft., the weather was windy and moderately cold. The north face of Everest was mostly shrouded in clouds. Waiting for the clouds to clear, we went into a large tent-house sipping yak butter tea. The proprietors were Tibetan villagers from Tashi Dzong, just below Gya'yu-La. They're very friendly young people in the 20's, one of them told us he had been to 6500 m./21,300 ft. level on Everest. Some tourists sleep overnight in these tents in order to see sunrise on Everest, but we were afraid of altitude sickness, so we decided to head to lower ground after snapping a few good pictures of Everest. A short way back we stopped at Rongpu Monastery, the highest monastery in the world (4900 m./16,100 ft.) Some villagers on road-building jobs there greeted us and requested to have photos taken, so we obliged. They told us that there isn't a lot of work now because the rainy season is starting, which means no climbers and fewer tourists. We returned to Tashi Dzong village and stayed at a Tibetan family hotel with no running water, although the dinner was quite tasty. In the dining room we joined many people from the village plus a few tourists, about 30 people sat side by side around the room watching a taped TV series and exchanged a few words.
Gyantse
The next day was spent driving, until we arrived in Gyantse in the evening. At one point we had to drive into a good sized river at low water. On the morning of June 28, we visited the major attractions in this large sleepy town in a verdant valley. We first went to Pelkor Chode Monastery and climbed its fabulous nine-story stupa, with colorfully painted and sculpted figures adorning every door on each level. There are reputedly 10,000 Buddha statues in this stupa, therefore its Tibetan name is Kumbum. We visited a few of the rooms on the lower levels with their large Buddha statues, but soon it became too many. We skipped most upper rooms and reached the top, where there is a nice view over the valley and the dramatic Dzong hill across the way. The sculpted figures are amazingly beautiful and they don't have a freshly renovated look. This place has a wonderfully relaxed feel; after we descended the stupa we admired the dozens of beautiful murals painted on the courtyard walls.
Next we climbed the Gyantse Dzong, a castle on a dramatically steep hill where in 1904 Tibetans suffered heavy casualities at the hands of Col. Younghusband's British invasion force from India. The mostly ruined castle is much smaller than the Potala Palace but looks just as majestic. The climb was steep and grueling, during which I was passed by a Tibetan man in his 50's leading a donkey hauling hot tea. Once on top we saw a little museum showing period customs and artifacts related to this fateful battle. From there you also get a fabulous view of the broad Gyantse plain, looking down on the pretty Pelkor Chode Monastery.
Yamdrok Yumtso, the holy lake
Leaving Gyantse, we passed first Semi-La, a mountain pass over a hydroelectric reservoir. Its magical lime green waters are surrounded by very steep hills, where the highway is carved on the hillside. I was scared to death as we traversed this section, sometimes 200 ft./60 m. above the lake on a very narrow dirt road without guardrails. In the middle of the lake is a small steep hill with some ruins on the very top; apparently it was a castle that guarded the former village in the valley before it was submerged. Viewing east over the reservoir a snow-capped peak is in the distance, framing a sublime view of a peaceful paradise.
After an intervening valley with many grazing yaks, we passed Karo-La (5042 m./16,500 ft.), a mountain pass next to the snow-capped peak of Noijin Kangsang (7191 m./23,490 ft.), whose glacier flows almost to the highway. At the glacier there are tourists taking pictures and a nomad girl holding a cute lamb in her arms. On the other side of the road there are more snow-capped peaks and another glacier coming near.
Leaving the snowy peaks, we enter the verdant Nakartse plain, and a slender blue lake comes into view. Yamdrok Yumtso (4441 m./14,570 ft.), one of the three major holy lakes in Tibet, winds sensually through the mountains. The highway stayed near the bank of the lake for about an hour, exposing many idyllic coves where a few small fishing boats moored. The waters are an incredible torquoise color holding reflection of Noijinkangsang's white snow, the scene is simply heavenly. Looking east rolling green hills accompany the serpent-like lake serenely into the horizon. From Kamba-La (4800 m./15,700 ft.) we got a final view of the holy lake before heading down many switch-backs to the banks of Yarlung Tsangpo's vast waters. The road finally became paved as we sped back to Lhasa.
Nam Tso
After a day's rest in Lhasa to shop for souvenirs, we decided to leave Tibet by the overland route northward to Qinghai province. First we would spend June 30 visiting Nam Tso, another major holy lake north of Lhasa. One the way as we crossed a minor pass on the Damshung plain, a dozen members of a nomad family would immediately come to us, some trying to sell prayer sheets, others just curious. I could find no piece of clothing or accessories on them that remotely suggest 20th or 21st centuries. Nam Tso is located in the Chang Tang (northern high plain) at an elevation of 4700 m./ 15,400 ft., it is the world's highest large lake. The lake's colors are a mesmerizing torquoise blue, softened by golden tones from the warm sun of early afternoon. Our driver's wife came along to accompany him on this outing, and they set out to circumambulate the rocky hill at Tashi Dorje peninshula. These rocks have some 100 ft./30 m. high, ruged cliffs, but locals have apparently climbed up there to decorate it with many prayer flags. Snow-capped Nyainchen Tanglha Range were not in their full glory due to clouds, nontheless the serenity of the vast sea-like lake surrounded by wide open verdant pastures and snowy peaks diminishing into the distance are indescribable.
Leaving Tibet over land
The same night we caught a northbound bus from Damshung town on the paved Qinghai-Tibet highway, which is currently the main supply route from China proper to Tibet. While waiting for the bus we chatted with two tallish, fierce looking Tibetan men from Nagchu in northern Tibet. They were dressed in full nomad regalia complete with neat red tassles tying their braided hair. We managed to exchange candies even though they spoke almost no Chinese. Riding the bus I saw many railway construction camps along the entire route to Golmud; it seems the crews are on schedule to extend China's railway to Lhasa in the middle of this decade. The trip to Golmud, the current rail terminus in Qinghai province, took a full 24 hours to travel nearly 1000 km. Our bus took many construction-forced detours, and at one time was stuck in a traffic pile-up.
Right after leaving Damshung we are treated with views of a large snow-capped peak close to the highway. This is Samdain Kangsang (6590 m./21,621 ft.) belonging to the Nyainchen Tanglha range. The next morning we were on very large plains covered by thin grasses, crossing occasional large shallow rivers full of sandbars, and seeing long chains of snow-capped ranges constantly on the horizon. The same mountains seemed to accompany us for several hours at a time. By early afternoon we crossed Kunlun Range, a massive mountain chain whose crestline was covered with snow and glaciers for many miles. The form of the Kunlun mountains are rounded and lack signs of serious erosion, its peaks are fairly indistinct from each other. The last leg before Golmud was a landscape of pure dusty desert with no vegetation whatsoever in a valley surrounded by forbidding, craggy foothills of the Kunlun.
After staying overnight in Golmud, we took a train to Lanzhou, capital of Gansu province, then another to Chengdu. We spent these two nights in relative comfort in sleeper cars, only lacking shower facilities. The lower altitudes starting from Golmud's 2800 m./9200 ft. down to Chengdu's 500 m./1640 ft. were very welcome.
We rested in Chengdu for 3 days, enjoying the great shopping and wonderful food. The goods were abundant, stylish and inexpensive; the food is considered among the very best in China. Indeed, every reasonable-looking restaurant we entered had extraordinarily delicious food at good prices. Chengdu enjoys a moist subtropical climate with almost perpetual cloudy days. The climate is responsible for its highly successful subtropical agriculture, as well as survival of the giant panda, one of the most endangered species in the world. We visited a panda breeding research center in a suburb of Chengdu, where these adorable creatures live amongst dense bamboo groves under careful human attention. However, the place is quite a bit warmer than their native habitat in the nearby high mountains from 2000 to 4000 m. (6500 to 13,000 ft.), which may explain why the pandas seemed so lazy.