Vogelsang Peak Adventure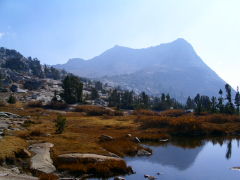 Hakan Yalcin, Ayla Yalcin, and I went on a backpacking and climbing trip to Vogelsang Peak in Yosemite National Park on October 16-17, 2004. I met Hakan and Ayla via the internet about a month before this trip, this was our first outing together. Our goal was climbing 11516' (3510 m) Vogelsang Peak. Vogelsang Peak is located in the heart of Yosemite National Park, in the central Cathedral Range area. I've always heard that this is a very beautiful area, but haven't had a chance to explore it because of its remoteness and lack of higher peaks. Vogelsang Peak itself is rated class 2, together with its moderate height makes it a relatively easy climbing objective. Although the peak is 11 miles in by trail, the relatively gentle terrain along the way makes it seem a walk in the park. Little did we know things would change drastically just in a day's time.

Before the trip we learned that the weather will be sunny on Saturday but a storm is coming in on Sunday, with 30% chance of precipitation. This didn't worry me much. I wore jeans as I always do and packed a poncho just in case. On Friday afternoon (10/15) I rode with Hakan and Ayla to Yosemite National Park's entrance and camped near Hetch Hetchy Road for the night.

Saturday morning we drove to the trailhead in Tuolumne Meadows, but there were signs everywhere saying no overnight parking after October 15th. We were puzzled, but Hakan was certain some ranger had confirmed with him on the phone that overnight parking was ok. At the trailhead, Hakan and Ayla shared a gourmet Turkish breakfast with me, complete with fresh tomatos, home-made meatballs, gourmet cheese... In comparison, my usual food ration was rather meagre and simple. When three of us started walking on John Muir Trail from Tuolumne Meadows trailhead, the air was dry and somewhat hazy. We saw nobody else on the trail the whole time that day. The haze became worse a few miles into the hike, obviously due to forest fires to the west of us. After about 9 miles we passed Tuolumne Pass, then the Vogelsang High Sierra Camp, an official wilderness camp with sturdy buildings. The place was closed for the season. Proceeding further south, we entered the basin of Vogelsang Lake, flanked by Vogelsang and Fletcher Peaks. This is a typical Yosemite high country scene with flat meadows and pristine lakes surrounding rugged granite peaks. Were it not for the haze it would be much more beautiful. After setting up camp near the lake, it was not even 4 pm so Hakan proposed climbing up Vogelsang Peak today. In light of the forecast 30% precipitation for Sunday it was a smart decision. Three of us proceeded southward on the trail to Vogelsang Pass, then scrambled up the east face of Vogelsang Peak. I brought photo print-outs from summitpost.org, the source of climbing information I've relied on for years. The terrain on the east face of Vogelsang Peak is fairly simple, so with minimal route-finding we were able to scramble up the summit ridge, then southward to the summit. Hakan was most energetic, so he was far ahead, while Ayla and I took longer breaks along the way. Eventually we all made it to the top, Ayla needing just a little help to get onto the exposed block. We hang around on the summit a little while, then descended to camp before sundown. Around 1 am that night while we were in our tents, I started hearing the sound of strong wind and heavy snow fall. It kept going on and on for hours, only became a little lighter around daybreak. I couldn't sleep all night, worried about what kind of conditions we would have to deal with, and whether we could get out safely on our own. It seems very likely that the 11 miles of trail would be completely covered by snow and we could very easily get lost while trying to find our way back. I was confident that with our tents and sleeping bags we could last a few nights in the wilderness, but my food ration was getting low already. What if the storm lasts a few days and we have to stay put for a while? I was woefully unprepared for traveling in winter storms, with no parka, no gaiters, light gloves, no goggles, light headwear, not even water-proof pants. Besides the survival issues, I could be missing work (which I have done in two previous trips, one in this year) and my friends would be worried if we aren't able to return on Sunday. After a brief debate of whether to wait for the weather to get better, we decided against it (that turned out to be a life-saving decision!) Braving the cold winds and blowing snowdrift, we quickly de-camped in the morning and headed out. I tried to call 911 with my cell phone but there was no cellular reception. The snow was at places 3 feet deep and obliterated all signs of the trail. Fortunately we made it to Vogelsang High Sierra Camp, 1 mile away, without problems. As we approached the camp we were extremely relieved to find people there. There was a party of around 30 young people there from Los Gatos (in the southern Bay Area, near San Jose) on a wilderness skills training course. Boy did they get more training than they bargained for! The course was lead by 3 experienced teachers who were a lot more confident than myself about route-finding in wintry conditions. We decided to follow their lead, naturally. I saw people duct-taping their pant legs to their ankles, and thought what a good idea! The walk-out took 5 hours from Vogelsang High Sierra Camp, while the weather gradually warmed up as we descended. Hakan and Ayla shared their food with me again, as my ration ran out unexpectedly. The snow drift turned to rain around the Lyell Fork of Tuolumne River, which is in lower terrain. My worries melted away with the snow, so to speak, as we reached trailhead and saw that no snow could be seen anywhere, only water. Unfortunately our overnight parking was not allowed and Hakan was hit with a big fine on a citation. Next we found out that the Highway 120 through Tuolumne Meadows was already closed for the season due to the big snow storm, so we had to explain to the rangers in order to have closure gates opened. After driving westward for 30 miles another closure gate blocked us. Fortunately Hakan was able to walk to the nearby Yosemite Instute buildings and find somebody to call rangers. Nonetheless we were very thankful to be out of danger, as none of us had been stranded by winter storms before. After returning home it was obvious the impact of this early winter storm had been deadly. Two Japanese climbers on El Capitain were killed on Saturday night, and 4 parties were stranded in the wilderness of Sierra Nevada for days (one party was stuck for 5 days). My co-workers Eszter, Kassim, and Jeff were day-hiking Cloud's Rest Peak in Yosemite National Park on the same Saturday, and they later shared with me how worried they felt on that night, seeing the big storm and knowing I was deep in the wilderness. I feel very lucky that we made it out without major trouble.